About Us
Spice Indian Cuisine is a Indian takeaway in Hamilton. Why don't you try our Diet Coca-Cola or Lamb Tikka Tandoori Starter?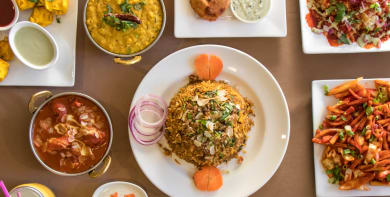 Reviews
97 reviews
DEREK
"great idea under present situation could not fault it and will use it again every couple of weeks and appreciate Hamilton spice for doing this"
16/05/2020
Denise
"Great service"
12/05/2020
Yvonne
"Extremely happy with the delivery service and the food was fabulous"
10/05/2020
Laura
"Food was great tho wrong! Ordered Lamb tikka and chicken delivered. However, was delicious all the same."
10/05/2020
Menu
Vegetable Pakora Starter Regular
£4.25
Vegetable Pakora Starter Large
£5.80
Chicken Pakora Starter Regular
£5.25
Chicken Pakora Starter Large
£6.95
Mixed Pakora Starter Regular
£5.25
Mixed Pakora Starter Large
£6.95
Chicken Tikka Pakora Starter Regular
£6.25
Chicken Tikka Pakora Starter Large
£8.25
Fish Pakora Starter Regular
£5.95
Fish Pakora Starter Large
£7.95
Samosa Starter (Pair)
Vegetable & mince
£5.25
Cauliflower Pakora Starter
£4.25
Onion Bhaji Starter Original
£4.25
Onion Bhaji Starter Onion Rings
£4.25
Chicken Puree Starter Sweet & Sour
£5.25
Chicken Puree Starter Spicy
£5.25
Lamb Puree Starter Sweet & Sour
£5.25
Mince Puree Starter Sweet & Sour
£5.25
Mince Puree Starter Spicy
£5.25
Prawn Puree Starter Sweet & Sour
£5.25
Prawn Puree Starter Spicy
£5.25
Channa Puree Starter Sweet & Sour
£4.25
Channa Puree Starter Spicy
£4.25
Chicken Tikka Puree Starter
£5.95
Mixed Platter for Two Starter
Chicken, mushroom & vegetable pakora chicken chaat & potato fritter
£8.50
Chicken Tikka Tandoori Starter
£5.25
Lamb Tikka Tandoori Starter
£5.95
Mixed Tikka Tandoori Starter
Chicken & lamb
£5.95
Tandoori Chicken Starter
Chicken on the bone
£5.25
Seekh Kebab Tandoori Starter
Lamb mince
£5.25
Chicken Chat Tandoori Starter
£5.50
Tandoori King Prawn Starter
£7.25
Tandoori Lamb Chops Starter
£7.25
Chicken Tikka Tandoori
Select chicken pieces cooked in tandoori style
£10.95
Lamb Tikka Tandoori
Select lamb pieces cooked in tandoori Style
£11.95
Mixed Tikka Tandoori
Select chicken & lamb pieces cooked in tandoori Style
£11.95
Tandoori Chicken (Half)
On the bone
£11.95
Seekh Kebab (Main)
Lamb mince
£10.95
Tandoori King Prawn
King size prawns dipped in spices & grilled on charcoal
£15.95
Indian Mixed Grill
Chicken on the bone, chicken tikka, lamb tikka, seekh kebab, king prawn nan & rice
£17.95
Mixed Vegetable Pakora Main Dish
Cauliflower, potato, green peas
£7.25
Mixed Vegetable Pakora Side Dish
Cauliflower, potato, green peas
£5.95
Aloo Saag Main Dish
Potato & spinach
£7.25
Aloo Saag Side Dish
Potato & spinach
£5.95
Aloo Chooly Main Dish
Potato & chickpeas
£7.25
Aloo Chooly Side Dish
Potato & chickpeas
£5.95
Aloo Gobi Main Dish
Potato & cauliflower
£7.25
Aloo Gobi Side Dish
Potato & cauliflower
£5.95
Tarka Daal Main Dish
Lentils cooked with garlic & ginger fried in butter
£7.25
Tarka Daal Side Dish
Lentils cooked with garlic & ginger fried in butter
£5.95
Vegetable Pakora Bhoona Main Dish
£7.25
Vegetable Pakora Bhoona Side Dish
£5.95
Mixed Vegetable Korma Main Dish
£7.25
Mixed Vegetable Korma Side Dish
£5.95
Peshwari Nan
Sweet, almonds & coconut
£4.50
Raita
Spicy yoghurt with cucumber & tomato
£1.95
Fillet Steak Gravy Sauce
Served with gravy or peppercorn sauce
£13.95
Fillet Steak Peppercorn Sauce
Served with gravy or peppercorn sauce
£13.95
Spice Special Omelette
Chicken tikka, pepper, onion & green chilli
£8.25
Spice Special Rice
Onions, peppers, peas & chickpeas
£3.95
Tikka Masala Chicken
Prepared in a special sauce with green peppers, onions & fresh cream. Mild
£8.95
Punjabi Masala Chicken
Cooked in a slightly tangy sauce with freshly ground, pure Punjabi spices & green peppers. Medium to hot
£8.95
Tikka Chasni Chicken
Prepared in special sweet & sour sauce with fresh cream. Very mild
£8.95
Karahi Chicken
A very rich flavour is achieved by using fresh ginger, garlic, onions & green peppers. Medium to hot
£8.95
Tikka Chilli Masala Chicken
Cooked in a special tangy sauce with green chilli. Hot
£8.95
Tikka Garlic Chilli Masala Chicken
Cooked in a special sauce, fresh garlic & green chilli. Hot
£8.95
South Indian Chilli Chicken
Fresh garlic, ginger, green pepper, onion & green chillies. Hot
£8.95
Jaipuri Chicken
Cooked with peppers, onions & mushrooms. Medium to hot
£8.95
Butter Masala Chicken
Cooked with fresh butter. Medium to hot
£8.95
Tikka Garam Masala Chicken
Cooked with seven spices & butter. Hot
£8.95
Pardesi Chicken
Chicken cooked with spinach, mushroom, onions & a touch of fresh cream. Medium to hot
£8.95
Masander Chicken
Cooked in a rich sauce with peppers, onions, chillies, fresh herbs & spices. Slightly hot
£8.95
Achari Chicken
Cooked with tangy mixed pickle & fresh green chillies. Strong spicy dish
£8.95
Rogan Josh Chicken
A subtle blend of spices including fresh ginger, sliced onion, chopped tomato & fresh ground spices. Medium to hot
£8.95
Lyllpuri Chicken
Cooked with Punjabi masala & cooked with fried onion, peppers & mushrooms
£8.95
Hyderabadi Chicken
Cooked with mince hyderabadi style
£8.95
Jalfrezi Chicken
Cooked tikka style. With mild spices, fresh cream, ground cashew nuts & topped with almond flakes. Mild
£8.95
Makhani Masala Chicken
Cooked in a sauce prepared with ground cashew nuts & fresh cream. Very mild
£8.95
Balti Chicken
Cooked with fresh chopped ginger, garlic, chilli, tomato & coriander. Hot
£8.95
Nantara Chicken
With a hint of sweet & sour with prawns & fresh herbs & spices
£8.95
Mazaydar Chicken
With ground chilli & fresh green chillies. Very hot
£8.95
Tikka Masala Vegetables
Prepared in a special sauce with green peppers, onions & fresh cream. Mild
£7.95
Tikka Masala Prawn
Prepared in a special sauce with green peppers, onions & fresh cream. Mild
£8.95
Tikka Masala Lamb
Prepared in a special sauce with green peppers, onions & fresh cream. Mild
£9.95
Tikka Masala King Prawn
Prepared in a special sauce with green peppers, onions & fresh cream. Mild
£12.95
Punjabi Masala Vegetables
Cooked in a slightly tangy sauce with freshly ground, pure Punjabi spices & green peppers. Medium to hot
£7.95
Punjabi Masala Prawn
Cooked in a slightly tangy sauce with freshly ground, pure Punjabi spices & green peppers. Medium to hot
£8.95
Punjabi Masala Lamb
Cooked in a slightly tangy sauce with freshly ground, pure Punjabi spices & green peppers. Medium to hot
£9.95
Punjabi Masala King Prawn
Cooked in a slightly tangy sauce with freshly ground, pure Punjabi spices & green peppers. Medium to hot
£12.95
Tikka Chasni Vegetables
Prepared in special sweet & sour sauce with fresh cream. Very mild
£7.95
Tikka Chasni Prawn
Prepared in special sweet & sour sauce with fresh cream. Very mild
£8.95
Tikka Chasni Lamb
Prepared in special sweet & sour sauce with fresh cream. Very mild
£9.95
Tikka Chasni King Prawn
Prepared in special sweet & sour sauce with fresh cream. Very mild
£12.95
Karahi Vegetables
A very rich flavour is achieved by using fresh ginger, garlic, onions & green peppers. Medium to hot
£7.95
Karahi Prawn
A very rich flavour is achieved by using fresh ginger, garlic, onions & green peppers. Medium to hot
£8.95
Karahi Lamb
A very rich flavour is achieved by using fresh ginger, garlic, onions & green peppers. Medium to hot
£9.95
Karahi King Prawn
A very rich flavour is achieved by using fresh ginger, garlic, onions & green peppers. Medium to hot
£12.95
Tikka Chilli Masala Vegetables
Cooked in a special tangy sauce with green chilli. Hot
£7.95
Tikka Chilli Masala Prawn
Cooked in a special tangy sauce with green chilli. Hot
£8.95
Tikka Chilli Masala Lamb
Cooked in a special tangy sauce with green chilli. Hot
£9.95
Tikka Chilli Masala King Prawn
Cooked in a special tangy sauce with green chilli. Hot
£12.95
South Indian Chilli Vegetables
Fresh garlic, ginger, green pepper, onion & green chillies. Hot
£7.95
South Indian Chilli Prawn
Fresh garlic, ginger, green pepper, onion & green chillies. Hot
£8.95
South Indian Chilli Lamb
Fresh garlic, ginger, green pepper, onion & green chillies. Hot
£9.95
South Indian Chilli King Prawn
Fresh garlic, ginger, green pepper, onion & green chillies. Hot
£12.95
Tikka Garlic Chilli Masala Vegetables
Cooked in a special sauce, fresh garlic & green chilli. Hot
£7.95
Tikka Garlic Chilli Masala Prawn
Cooked in a special sauce, fresh garlic & green chilli. Hot
£8.95
Tikka Garlic Chilli Masala Lamb
Cooked in a special sauce, fresh garlic & green chilli. Hot
£9.95
Tikka Garlic Chilli Masala King Prawn
Cooked in a special sauce, fresh garlic & green chilli. Hot
£12.95
Jaipuri Vegetables
Cooked with peppers, onions & mushrooms. Medium to hot
£7.95
Jaipuri Prawn
Cooked with peppers, onions & mushrooms. Medium to hot
£8.95
Jaipuri Lamb
Cooked with peppers, onions & mushrooms. Medium to hot
£9.95
Jaipuri King Prawn
Cooked with peppers, onions & mushrooms. Medium to hot
£12.95
Butter Masala Vegetables
Cooked with fresh butter. Medium to hot
£7.95
Butter Masala Prawn
Cooked with fresh butter. Medium to hot
£8.95
Butter Masala Lamb
Cooked with fresh butter. Medium to hot
£9.95
Butter Masala King Prawn
Cooked with fresh butter. Medium to hot
£12.95
Tikka Garam Masala Vegetables
Cooked with seven spices & butter. Hot
£7.95
Tikka Garam Masala Prawn
Cooked with seven spices & butter. Hot
£8.95
Tikka Garam Masala Lamb
Cooked with seven spices & butter. Hot
£9.95
Tikka Garam Masala King Prawn
Cooked with seven spices & butter. Hot
£12.95
Pardesi Vegetables
Chicken cooked with spinach, mushroom, onions & a touch of fresh cream. Medium to hot
£7.95
Pardesi Prawn
Chicken cooked with spinach, mushroom, onions & a touch of fresh cream. Medium to hot
£8.95
Pardesi Lamb
Chicken cooked with spinach, mushroom, onions & a touch of fresh cream. Medium to hot
£9.95
Pardesi King Prawn
Chicken cooked with spinach, mushroom, onions & a touch of fresh cream. Medium to hot
£12.95
Masander Vegetables
Cooked in a rich sauce with peppers, onions, chillies, fresh herbs & spices. Slightly hot
£7.95
Masander Prawn
Cooked in a rich sauce with peppers, onions, chillies, fresh herbs & spices. Slightly hot
£8.95
Masander Lamb
Cooked in a rich sauce with peppers, onions, chillies, fresh herbs & spices. Slightly hot
£9.95
Masander King Prawn
Cooked in a rich sauce with peppers, onions, chillies, fresh herbs & spices. Slightly hot
£12.95
Achari Vegetables
Cooked with tangy mixed pickle & fresh green chillies. Strong spicy dish
£7.95
Achari Prawn
Cooked with tangy mixed pickle & fresh green chillies. Strong spicy dish
£8.95
Achari Lamb
Cooked with tangy mixed pickle & fresh green chillies. Strong spicy dish
£9.95
Achari King Prawn
Cooked with tangy mixed pickle & fresh green chillies. Strong spicy dish
£12.95
Rogan Josh Vegetables
A subtle blend of spices including fresh ginger, sliced onion, chopped tomato & fresh ground spices. Medium to hot
£7.95
Rogan Josh Prawn
A subtle blend of spices including fresh ginger, sliced onion, chopped tomato & fresh ground spices. Medium to hot
£8.95
Rogan Josh Lamb
A subtle blend of spices including fresh ginger, sliced onion, chopped tomato & fresh ground spices. Medium to hot
£9.95
Rogan Josh King Prawn
A subtle blend of spices including fresh ginger, sliced onion, chopped tomato & fresh ground spices. Medium to hot
£12.95
Lyllpuri Vegetables
Cooked with Punjabi masala & cooked with fried onion, peppers & mushrooms
£7.95
Lyllpuri Prawn
Cooked with Punjabi masala & cooked with fried onion, peppers & mushrooms
£8.95
Lyllpuri Lamb
Cooked with Punjabi masala & cooked with fried onion, peppers & mushrooms
£9.95
Lyllpuri King Prawn
Cooked with Punjabi masala & cooked with fried onion, peppers & mushrooms
£12.95
Hyderabadi Vegetables
Cooked with mince hyderabadi style
£7.95
Hyderabadi Prawn
Cooked with mince hyderabadi style
£8.95
Hyderabadi Lamb
Cooked with mince hyderabadi style
£9.95
Hyderabadi King Prawn
Cooked with mince hyderabadi style
£12.95
Jalfrezi Vegetables
Cooked tikka style. With mild spices, fresh cream, ground cashew nuts & topped with almond flakes. Mild
£7.95
Jalfrezi Prawn
Cooked tikka style. With mild spices, fresh cream, ground cashew nuts & topped with almond flakes. Mild
£8.95
Jalfrezi Lamb
Cooked tikka style. With mild spices, fresh cream, ground cashew nuts & topped with almond flakes. Mild
£9.95
Jalfrezi King Prawn
Cooked tikka style. With mild spices, fresh cream, ground cashew nuts & topped with almond flakes. Mild
£12.95
Makhani Masala Vegetables
Cooked in a sauce prepared with ground cashew nuts & fresh cream. Very mild
£7.95
Makhani Masala Prawn
Cooked in a sauce prepared with ground cashew nuts & fresh cream. Very mild
£8.95
Makhani Masala Lamb
Cooked in a sauce prepared with ground cashew nuts & fresh cream. Very mild
£9.95
Makhani Masala King Prawn
Cooked in a sauce prepared with ground cashew nuts & fresh cream. Very mild
£12.95
Balti Vegetables
Cooked with fresh chopped ginger, garlic, chilli, tomato & coriander. Hot
£7.95
Balti Prawn
Cooked with fresh chopped ginger, garlic, chilli, tomato & coriander. Hot
£8.95
Balti Lamb
Cooked with fresh chopped ginger, garlic, chilli, tomato & coriander. Hot
£9.95
Balti King Prawn
Cooked with fresh chopped ginger, garlic, chilli, tomato & coriander. Hot
£12.95
Nantara Vegetables
With a hint of sweet & sour with prawns & fresh herbs & spices
£7.95
Nantara Prawn
With a hint of sweet & sour with prawns & fresh herbs & spices
£8.95
Nantara Lamb
With a hint of sweet & sour with prawns & fresh herbs & spices
£9.95
Nantara King Prawn
With a hint of sweet & sour with prawns & fresh herbs & spices
£12.95
Mazaydar Vegetables
With ground chilli & fresh green chillies. Very hot
£7.95
Mazaydar Prawn
With ground chilli & fresh green chillies. Very hot
£8.95
Mazaydar Lamb
With ground chilli & fresh green chillies. Very hot
£9.95
Mazaydar King Prawn
With ground chilli & fresh green chillies. Very hot
£12.95
Pardesi Chicken
Chicken cooked with spinach, mushroom, onions & a touch of fresh cream. Medium to hot
£8.95
Korma Chicken
Cooked with ground coconut & fresh cream
Very mild
£8.25
Korma Vegetables
Cooked with ground coconut & fresh cream
Very mild
£7.95
Korma Prawn
Cooked with ground coconut & fresh cream
Very mild
£8.95
Korma Lamb
Cooked with ground coconut & fresh cream
Very mild
£9.95
Korma Chicken Tikka
Cooked with ground coconut & fresh cream
Very mild
£9.95
Korma King Prawn
Cooked with ground coconut & fresh cream
Very mild
£11.95
Ceylonese Korma Chicken
Cooked with creamed coconut, fresh cream & mild spices
Mild
£8.95
Ceylonese Korma Vegetables
Cooked with creamed coconut, fresh cream & mild spices
Mild
£7.95
Ceylonese Korma Prawn
Cooked with creamed coconut, fresh cream & mild spices
Mild
£8.95
Ceylonese Korma Lamb
Cooked with creamed coconut, fresh cream & mild spices
Mild
£9.95
Ceylonese Korma Chicken Tikka
Cooked with creamed coconut, fresh cream & mild spices
Mild
£9.95
Ceylonese Korma King Prawn
Cooked with creamed coconut, fresh cream & mild spices
Mild
£11.95
Mughlai Korma Chicken
Cooked with fresh cream & ground cashew nuts
Very mild
£8.95
Mughlai Korma Vegetables
Cooked with fresh cream & ground cashew nuts
Very mild
£7.95
Mughlai Korma Prawn
Cooked with fresh cream & ground cashew nuts
Very mild
£8.95
Mughlai Korma Lamb
Cooked with fresh cream & ground cashew nuts
Very mild
£9.95
Mughlai Korma Chicken Tikka
Cooked with fresh cream & ground cashew nuts
Very mild
£9.95
Mughlai Korma King Prawn
Cooked with fresh cream & ground cashew nuts
Very mild
£11.95
Gurka Chicken
Cooked with mild spices, fresh chopped fruit & fresh cream
Mild
£8.95
Gurka Vegetables
Cooked with mild spices, fresh chopped fruit & fresh cream
Mild
£7.95
Gurka Prawn
Cooked with mild spices, fresh chopped fruit & fresh cream
Mild
£8.95
Gurka Lamb
Cooked with mild spices, fresh chopped fruit & fresh cream
Mild
£9.95
Gurka Chicken Tikka
Cooked with mild spices, fresh chopped fruit & fresh cream
Mild
£9.95
Gurka King Prawn
Cooked with mild spices, fresh chopped fruit & fresh cream
Mild
£11.95
Spice Special Korma Chicken
Cooked with fresh cream, ground cashew nuts & chopped mixed fruit. Topped with flaked almonds
Mild
£8.95
Spice Special Korma Vegetables
Cooked with fresh cream, ground cashew nuts & chopped mixed fruit. Topped with flaked almonds
Mild
£7.95
Spice Special Korma Prawn
Cooked with fresh cream, ground cashew nuts & chopped mixed fruit. Topped with flaked almonds
Mild
£8.95
Spice Special Korma Lamb
Cooked with fresh cream, ground cashew nuts & chopped mixed fruit. Topped with flaked almonds
Mild
£9.95
Spice Special Korma Chicken Tikka
Cooked with fresh cream, ground cashew nuts & chopped mixed fruit. Topped with flaked almonds
Mild
£9.95
Spice Special Korma King Prawn
Cooked with fresh cream, ground cashew nuts & chopped mixed fruit. Topped with flaked almonds
Mild
£11.95
Pasanda Chicken
Cooked in sauce using yoghurt, ground cashew nuts & fresh cream & topped with almond flakes
Mild
£8.95
Pasanda Vegetables
Cooked in sauce using yoghurt, ground cashew nuts & fresh cream & topped with almond flakes
Mild
£7.95
Pasanda Prawn
Cooked in sauce using yoghurt, ground cashew nuts & fresh cream & topped with almond flakes
Mild
£8.95
Pasanda Lamb
Cooked in sauce using yoghurt, ground cashew nuts & fresh cream & topped with almond flakes
Mild
£9.95
Pasanda Chicken Tikka
Cooked in sauce using yoghurt, ground cashew nuts & fresh cream & topped with almond flakes
Mild
£9.95
Pasanda King Prawn
Cooked in sauce using yoghurt, ground cashew nuts & fresh cream & topped with almond flakes
Mild
£11.95
Bhoona Chicken
Cooked in tomatoes, onions, ginger, spices & thick sauce
£7.95
Bhoona Lamb
Cooked in tomatoes, onions, ginger, spices & thick sauce
£8.95
Bhoona Mince
Cooked in tomatoes, onions, ginger, spices & thick sauce
£8.95
Bhoona Prawn
Cooked in tomatoes, onions, ginger, spices & thick sauce
£8.95
Bhoona Scampi
Cooked in tomatoes, onions, ginger, spices & thick sauce
£8.95
Bhoona King Prawn
Cooked in tomatoes, onions, ginger, spices & thick sauce
£11.95
Patia Chicken
Slightly sweet & sour cooked in mango chutney, lemon juice & exotic spices
£7.95
Patia Lamb
Slightly sweet & sour cooked in mango chutney, lemon juice & exotic spices
£8.95
Patia Mince
Slightly sweet & sour cooked in mango chutney, lemon juice & exotic spices
£8.95
Patia Prawn
Slightly sweet & sour cooked in mango chutney, lemon juice & exotic spices
£8.95
Patia Scampi
Slightly sweet & sour cooked in mango chutney, lemon juice & exotic spices
£8.95
Patia King Prawn
Slightly sweet & sour cooked in mango chutney, lemon juice & exotic spices
£11.95
Dhansak Chicken
Cooked with curried lentils & well seasoned with spices
£7.95
Dhansak Lamb
Cooked with curried lentils & well seasoned with spices
£8.95
Dhansak Mince
Cooked with curried lentils & well seasoned with spices
£8.95
Dhansak Prawn
Cooked with curried lentils & well seasoned with spices
£8.95
Dhansak Scampi
Cooked with curried lentils & well seasoned with spices
£8.95
Dhansak King Prawn
Cooked with curried lentils & well seasoned with spices
£11.95
Dopiaza Chicken
Cooked with chopped onions
£7.95
Dopiaza Lamb
Cooked with chopped onions
£8.95
Dopiaza Mince
Cooked with chopped onions
£8.95
Dopiaza Prawn
Cooked with chopped onions
£8.95
Dopiaza Scampi
Cooked with chopped onions
£8.95
Dopiaza King Prawn
Cooked with chopped onions
£11.95
Madras King Prawn
Hot dish
£11.95
Bombay Chicken
Traditional spices cooked with potatoes
£7.95
Bombay Lamb
Traditional spices cooked with potatoes
£8.95
Bombay Mince
Traditional spices cooked with potatoes
£8.95
Bombay Prawn
Traditional spices cooked with potatoes
£8.95
Bombay Scampi
Traditional spices cooked with potatoes
£8.95
Bombay King Prawn
Traditional spices cooked with potatoes
£11.95
Vindaloo Chicken
Very hot dish
£8.95
Vindaloo Lamb
Very hot dish
£8.95
Vindaloo Mince
Very hot dish
£8.95
Vindaloo Prawn
Very hot dish
£8.95
Vindaloo Scampi
Very hot dish
£8.95
Vindaloo King Prawn
Very hot dish
£11.95
Contact Us
Find Us
20 Bothwell Road, Hamilton, ML30AY
We deliver to
G71, G72, ML1, ML3, ML4, ML9